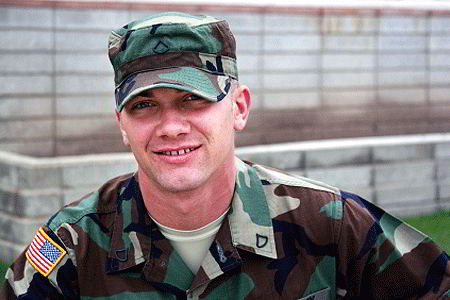 Online degree helps soldier transition to civilian life
William Curtis served his country in Iraq, but that wasn't enough for this overachiever. Despite his military duties, spotty Internet access and hectic schedule, William earned his his associate degree online through Central Texas College.
William Curtis was determined to earn his degree. Though he attempted a traditional college experience fresh out of high school, he faced the difficulty of choosing between attending class and supporting himself. When he went into the military, Curtis saw the opportunity to earn education benefits while he served. Rather than wait for his deployment to be over, he started on the path to his degree while in Iraq.
Today, Curtis is pursuing not one, but two bachelor's degrees. He earned his associate degree online through Central Texas College.
Q: Why did you choose the general studies associate degree?
A: When I chose my Associate of Arts in General Studies, I really was unsure about what I wanted to be when I "grew up." I figured it would be a good general degree that I could take anywhere and it showed I had the ability to learn. Due to my work schedule and constantly being either in the field, deployed or working odd hours, an online degree gave me the ability to be flexible.
Q. How did online learning fit in with your busy military life?
A: I was able to take all the courses except for one–math–while I was in the military. The freedom of not having class was great. I knew what I had to do and got it down. I had just a handful of deadlines, unlike a traditional class where you are required to attend regardless of what the teacher said. If I had to work more I was able to do so without the fear of missing class.
The ability to move at my own pace was great. I recall finishing a course that was supposed to take eight weeks and I finished it in five weeks. I wouldn't have been able to do this if I was in a traditional setting.
Q. Were there any hurdles to earning your degree online?
A: I think one of the biggest challenges was planning time for my class work. Most of my courses had something to turn in once a week. I would need to start on it at the beginning of the week rather than wait until the end of the week. Being in Iraq and having spotty Internet didn't help matters either. But the instructors understand you are busy and have a life and all of those other things going on. They are willing to work with you more so than some traditional teachers I have had.
Q: What was the biggest advantage of earning your degree online?
A: Many military members leave with just the experience they had from their jobs. I had my experience along with a college level education, which has been a strength as I compete in the job market.
Q: Did you miss the face-to-face interactions with your fellow students and professors?
A: One thing that was missing in some of the classes was the meaningful discussion and expressing of ideas. I took a politics class. It would have been interesting to hear others ideas but the course was not set up that way. With that said, I took a history class that was set up for students to express their ideas, which was not as enjoyable as I would have liked.
As for time with the professors, any time I had an issue I could email the professor and usually within the day I would have a response or clarification to my question.
Q: How did your associate degree help your career?
A: I served seven years in the military and have a ton of experience. So do a lot of the other soldiers that served with me. When it comes to jobs I am able to stand out because while they were only doing their job, I left having earned a degree while I was in as well.
Q: What advice do you have for students who are considering an online degree?
A: Do your homework! Both about the school and for the class. Know what the school is geared for and if they are supportive of your schedule. Don't procrastinate on the class work. Often working on the readings or homework a few hours a night is so much easier than waiting until your day off to do it all. You will run out of time by waiting.
Also, plan out your classes. Don't take two classes that are reading-heavy if you don't like to read. Always talk to your professor and let them know if there is an issue going on in your life that could affect your school work.
Our Partner Listings