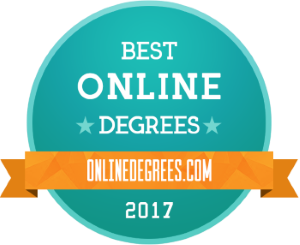 Best Online Degrees 2017
Which degrees have the best career prospects for new professionals or career changers? Check our ranking of the top 25 online bachelor's degrees before you choose a degree program.
Our analysis considered eight factors, including salary and job growth, to determine which degrees offer the most-promising outcomes.
Recent Articles
From Houston to Phoenix, Baltimore to Minneapolis, check our top rankings to find out which big cities offer grads the best opportunities after college.
Read more »
Which midsize cities offer the best career opportunities and lifestyles for college graduates? Check out our top 15 ranking.
Read more »
If you're gearing up to graduate college and looking for a place to settle down, searching for a city that's affordable with good job prospects is a smart move. Check out our ranking of best small cities for new grads to see the top-rated options across the nation.
Read more »
You've probably heard that the right education can deliver a boost to your earning power, but you don't often see hard data on just how much of a difference it can make. The U.S. Department of Labor's Bureau of Labor Statistics (BLS) published statistics from its own survey of the nation's job market, and there's some real food for thought in the numbers:
College graduates earned an average $1,137 per week in 2015; high school graduates with no college experience earned just $678 -- a difference of more than $65 per day
Mean annual compensation for bachelor's holders works out to $59,124, while those with just a diploma earned an average of $35,256 -- a yearly advantage of nearly $24,000
Salary advantages aren't the end of the story, either; the BLS also found that high school grads with no college experience are almost twice as likely to be unemployed as workers who have a bachelor's.
Online degrees are more accessible today than ever, thanks to advancements in broadband connectivity, software tech and a growing number of traditional institutions offering programs in virtual classrooms. The National Center for Education Statistics (NCES) counts 717 colleges and universities in the U.S. where students can earn various undergraduate business degrees online, and more than 1,200 schools in the country have online training options for students looking to enter the health care field.
Enrollment in online courses and programs climbed each year from 2003 to 2013, according to a 2014 report published by the Online Learning Consortium, more than tripling from 1.97 million to 6.71 million in just those ten years. It's also reported that negative perceptions of online programs among employers have declined considerably -- three out of four employers see a qualification earned online as equal to those earned on campus, according to a recent article in U.S. News & World Report.
If you're thinking of giving online education a shot, here's a list of some of the best online degrees available this year.
Popular Online Degree Programs
5.7M
Total Employment, 2016
870.6K
Job Openings, 2014-24
$43K
Average Salary, 2016
150.5M
Total Employment, 2016
19.5M
Job Openings, 2014-24
$62.9K
Average Salary, 2016
8.5M
Total Employment, 2016
736.4K
Job Openings, 2014-24
$73.2K
Average Salary, 2016
15.5M
Total Employment, 2016
1.7M
Job Openings, 2014-24
$62.5K
Average Salary, 2016
40.7M
Total Employment, 2016
7.7M
Job Openings, 2014-24
$29K
Average Salary, 2016
25.5M
Total Employment, 2016
2.8M
Job Openings, 2014-24
$71.1K
Average Salary, 2016
17.4M
Total Employment, 2016
1.9M
Job Openings, 2014-24
$70.4K
Average Salary, 2016
38.7M
Total Employment, 2016
4.2M
Job Openings, 2014-24
$74.4K
Average Salary, 2016
7.9M
Total Employment, 2016
1.2M
Job Openings, 2014-24
$57K
Average Salary, 2016
88.7M
Total Employment, 2016
11.5M
Job Openings, 2014-24
$44.3K
Average Salary, 2016
Best Online Degrees Tool
Explore degrees by
Subject
Type the name of a degree program/subject into our Degree & Career Match-Up tool to see current data on related careers, such as salary, employment numbers, and projected job openings.
Explore degrees by
Occupation
Enter a job title into our Degree & Career Match-Up tool to see which degree subject is typically associated with it. You'll also find employment outlook info such as salary and projected job openings.
Advantages of Getting a Degree Online
If you aren't sure what it would be like to earn your degree online rather than on campus, here's a visualization that might help: imagine going to class in the traditional way, except your classroom is in your house and you can pause and rewind lectures if you miss something.
Here are some more specific ways that online education differs from the traditional, campus-based classes:
Most online courses allow you to attend each week's lecture portion at any time that works with your schedule. Provided you can finish your assignments before their due dates, the days and times at which you attend lectures or complete textbook readings are generally up to you.

It's often the case that online courses cost less for universities to produce, and those savings can be passed on to students. Some digital distance education programs also use e-textbooks and other digital materials, which typically cost less than the ink-and-paper variety.

If you're looking to increase your skills before angling for a promotion, or complete some continuing education requirements, online courses are usually easier to fit into a full-time work schedule. Education, health care and business disciplines tend to be prime territory for this advantage, although online training is making its way into other fields as well.
Choosing an Online Degree
When looking into online programs, it's important to be aware that some lend themselves better to the virtual classroom than others. Subjects that require extensive lab work may require attendance at a campus facility or satellite learning center, and even fully online schools often require that internship or residency sections are completed in person.
It's also important to check the accreditation status of the school and program you're considering. Accreditation shows that an institution has met the national standards for education quality, so you can be confident that coursework you do there will be recognized by employers and other schools. It's not that unaccredited colleges are against the law, it's just that they haven't been verified by the same set of standards as other schools, and some employers or graduate registrars may not accept their programs as legitimate.
Sources
2016 Occupational Employment Statistics and 2014-24 Employment Projections, Bureau of Labor Statistics, BLS.gov.
Earnings and unemployment rates by educational attainment, 2015, Bureau of Labor Statistics, U.S. Department of Labor, accessed July 15, 2016, http://www.bls.gov/emp/ep_chart_001.htm
Online Learning Consortium, accessed July 15, 2016: Grade Level: Tracking Online Education in the United States, February 2015, http://info2.onlinelearningconsortium.org/rs/897-CSM-305/images/gradelevel.pdf#page=51; Changing Course: Ten Years of Tracking Online Education in the United States, January 2013, http://www.onlinelearningsurvey.com/reports/changingcourse.pdf#page=40;
Bachelor's degrees conferred by postsecondary institutions, by field of study, Digest of Education Statistics, National Center for Education Statistics, July 2013, accessed July 15, 2016, http://nces.ed.gov/programs/digest/d13/tables/dt13_322.10.asp
How Employers View Your Online Bachelor's Degree, U.S. News and World Report, March 4, 2014, accessed July 15, 2016, http://www.usnews.com/education/online-education/articles/2014/02/28/what-employers-really-think-about-your-online-bachelors-degree
FAQs about Accreditation, U.S. Department of Education, accessed July 15, 2016, http://ope.ed.gov/ACCREDITATION/FAQAccr.aspx
x