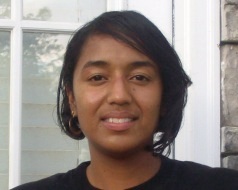 Full-time working mom Jeannine Traynham finds time for her education
This Georgia mom went to work after high school, but always wanted a college degree. Read how an online degree program helped her achieve her goal.
Jeannine Traynham of Douglasville, Ga., didn't go to college after she graduated high school in 1995. By the time she realized a degree in early childhood education would help her advance in her job as a childcare worker for Head Start, she had two children–then 8 and 12–and was working full time. Deciding that on campus learning would be too challenging logistically, Traynham opted to pursue a degree online. She proudly graduated in May 2011 with an associate degree in early childhood education earned online from Northampton Community College in Bethlehem, Pa.
Q:

What made you decide to go for your online early childhood education degree?

A:Being a wife and mother, it was easier for me to do schoolwork online. Who would watch the kids if I were in class? I searched online for 18 months to find a program I was comfortable with and found one at a community college in Pennsylvania. Having lived in New York, I was familiar with where it was. I called and spoke to their advisers and decided it was the perfect program for what I wanted.
Q:

How did you juggle family, work and earning an early childhood education degree online?

A:When I came home from work, I'd have dinner with my family and then I'd go to the computer and do my schoolwork. I always made sure I got my schoolwork done–despite the many challenges that came along during the two years I was taking courses, including having a torn retina and needing emergency eye surgery my second semester. Because I couldn't see, I had to dictate my assignments and have my husband type them in for me.

Then I suffered two deaths back-to-back the second spring semester. My uncle passed away and my grandmother right behind him. It was my grandmother who raised me and so we were very close. Then my computer got a virus and I had to go to my mother-in-law's house and beg the neighbors to borrow their computer so that I could get my assignments completed on time, but I was determined not to let anything get in my way. Not anything.
Q:

What was the biggest challenge of earning your degree online?

A:If I had a question, I couldn't just raise my hand and ask the teacher. That's a big difference between studying online and in the classroom. But I'd email my professors, and all the professors I had over the past two years got back to me very quickly. I never had to wait too long for a response. The biggest advantage of earning an early childhood education degree online is that you set your own schedule and being an adult learner is much different from being a teenager–you have so much going on in your life that you have to make time for.
Q:

Were you able to interact with other students while studying online?

A:Yes, thanks to the discussion boards. The professors would pose questions at the beginning of the week and you had to give your response. There was a lot of back and forth that developed through the discussion board. We couldn't see each other, but you still felt like you had classmates. You could still work as a team. I also liked when professors scheduled live sessions where you could hear their voices and those of your classmates who participated in the sessions.
Q:

What advice would you give others thinking of earning a degree in early childhood education online?

A:First, I would say be organized and serious about doing your work. One thing I love about online courses is that you get all your work upfront. You know what your assignments are for each week of the 16-week semesters. If you're studying online you have to be sure you stay on top of things because online learning can be challenging if you fall behind. Most professors are very understanding if you run into a problem, but you have to tell them.
Q:

What are your plans now that you graduated?

A:I plan to continue to study online and earn my bachelor's degree in early childhood education. I am able to transfer my credits to a four-year school and will be attending Ashford University online in the fall. The community college has been very helpful and I'm sure that if I need a job, they will help me in any way they can.