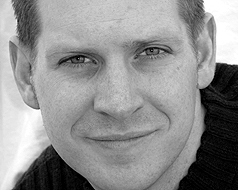 Online learning allows father to juggle work, family and education
Earning an online degree is great for those who are juggling work and family obligations. Just ask Brandon Pipkin, who earned his online associate degree in business while traveling for his job, raising his five kids and still finding time for date nights with his wife.
Brandon Pipkin is a professional speaker and author of "21 Questions for 21 Millionaires." He is also a father of five who juggled family responsibilities and extensive travel for his job while pursuing an associate degree in business online.
Why did you opt for an online degree rather than the on-campus experience?
I am a father of five children, four at the time I decided to return to school. My professional background up to that point had been in sales, sales management, leadership development and training, so business was a logical associate degree choice that was not only aligned with my professional experience but would also position me well to earn a bachelor's in a business discipline as well.
As a husband, father, and a corporate trainer who traveled, I knew that the campus experience would be difficult, if not impossible, since I couldn't be sure that I would be in town on a given night each week. Additionally, I had taken an online class during my earlier, mostly on-campus college experience and found that it worked out okay.
How did online learning fit in with your busy schedule?
Unbelievably well. I could work on and turn in assignments on my schedule. I kept up with the due dates as to not fall behind, but loved that I could do homework on an airplane, in a hotel room, and on the weekends, utilizing little cracks and big chunks of time as I wanted without being tied to a campus. I was also able to continue working on a book I was writing and have since published.
What were the challenges and benefits of earning your degree online?
I can't say I experienced any challenges earning my degree online. The only pressure outside of wanting to get straight As that I felt was that of connecting with other students, which is encouraged. Because of my schedule, however, I barely interacted with other students in online forums and found that it impacted neither my grades nor my experience. 
Was online learning what you expected it to be? Why or why not?
At times I felt like the online learning might have been a little too easy. This is likely because although I was probably doing as much work as I would have in a classroom setting, I was able to do it with the book in front of me, with the Internet as a resource, and on my own schedule. Not that I would request the school make it harder, mind you.
What was the most surprising thing about the online learning experience?
The most surprising thing was how available the instructors are. Yes, they have preferred contact times, yet if you pick up the phone or e-mail they are available. Also, I found them to be interested in my success, which may not always be the case with a more traditional route.
How was your program structured? What was your typical school day or school week like?
When I initially began the program I was required to post a one discussion question response a week, and post two responses to other students' comments. Additionally, there was a quiz due each week, and a paper due every other week, with a final project due at the end of the eight-week course. I believe I had to log on at least three times during the course of the week. Toward the end of my degree that was upped to four times per week, which I found onerous since it defeated some of the appeal of an online, asynchronous educational experience.
How did your associate degree in business help your career?
It gave me the foundation necessary to earn a bachelor's degree, which should open up many professional opportunities to me which are closed without a degree. It also provides confidence and self-assurance that I'm on par with many of my peers.
What advice do you have for students who are considering an online degree?
Do it! Find a program you're comfortable with and jump in. Just get the degree done and keep moving forward in your life. Because of the flexibility of online learning I was able to get a quality education while still dating my wife once a week, spending time with my family, working full-time, writing a book and volunteering. I don't believe that would have all been possible with an on-campus experience.
Our Partner Listings