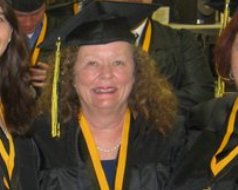 Linda Rich: Three years, two online degrees, one class at a time
It might seem impossible to earn two degrees in three years, but that's exactly what Linda Rich did while traveling five days a week for work. Learn how this operations consultant did it.
As an operations consultant for Rehabcare, a physical therapy rehabilitation management company, Linda Rich travels five days a week and helps hospitals and other facilities manage their rehab programs. In three years — less than one-quarter of the time she's worked for Rehabcare — Rich earned both a bachelor's degree in health care management and a master's degree in human resources. How did she do it? Online, one class at a time.
Q:

How did you finish your bachelor's degree in health care management in just a year?

A:I started my bachelor's degree with Ottawa University in the 1980s. Life just kept getting in the way. I was never able to finish my degree, though I only had one course left to complete. Because so much time had lapsed, I had to retake some courses. I started the second time around 2008.
Q:

Why did you continue your education with an online master's degree program in human resources?

A:I looked at the health care industry — there are a lot of MBAs and people managing the business. But in my opinion, human resources is what drives our business. I felt like there were already a lot of people tending to the business, so I decided to focus on how to improve human resources.
Q:

What were the benefits and challenges of earning two degrees online?

A:Traditional classes were not going to work based on my availability. Online education allowed me to take classes and still complete my obligation to my job and, somewhat, to my family. The instructors work with you and help you make sure that you're part of the class. It's really a great experience.

Everyone was available as a resource. You could reach out at any time and people will call you back on weekends or evenings–it didn't matter. People call you back and make you feel like you're part of an organization.

Getting online was sometimes a challenge because I travel to a lot of different areas, and connectivity could be a problem.
Q:

What was your class load and schedule like while traveling for work?

A:I took one class at a time, most of the time. There were two or three times that I took two classes at once, but it was a little more than I could handle. One class really worked for me and kept me going.

A class finished on Sunday, and the next class started on Monday. When I first started, classes were 11 weeks long. When I finished, I was part of the pilot program for eight-week classes.

The only time I had off was around three weeks between Christmas and New Year's. That's your choice. If you choose to take the summer off, you can. Taking one class at a time, I wasn't getting any younger, so I needed to go ahead and finish it without any time off.
Q:

How would you describe your interactions in the online classroom?

A:You actually forget that you're not sitting there and talking to people. The discussion boards can get lively. It depends on the instructors.

Some teachers are better than others. They all try to make you feel included. They expand on the questions and discussions, and you get into this rhythm of back and forth.

You can call some of your classmates on the phone and talk to them, and they call you. You can really develop camaraderie; it just happens — you naturally start talking to each other. There are people who answer certain ways online and you think you would like to get their opinion. Or you get tired of the back and forth on the discussion boards, and sometimes it's easier to pick up the phone.
Q:

What advice would you give to someone thinking about earning a health care management degree online?

A:You need to first determine your needs. What kind of time of do you have? How is this going to fit into your schedule? Choose the program that fits you. They're not all the same. Some require that you're in front of a webcam at a certain time to be part of a true classroom setting. That doesn't give you much flexibility. Choose the program that gives you the advantage to tend to your needs and be able to better your career at the same time.

Our Partner Listings