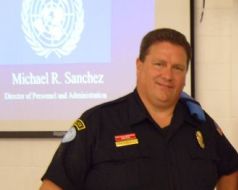 Former UN police officer pulls off two online degrees under pressure
Former UN Police Officer Mike Sanchez felt his lack of a college degree prevented further job advancement. Read how online education helped Sanchez earn a degree while working abroad.
Mike Sanchez had a challenging career as an international police officer working for the United Nations Mission in Kosovo (UNMIK), but his lack of a degree was standing between him and career advancement. So Sanchez turned to online education to help him earn two criminal justice degrees and further his career.
With the help of some transfer credits, Sanchez earned a Bachelor of Arts in Police Science through Ottawa University in less than a year while living in Kosovo. After a positive online experience with his first degree, Sanchez immediately enrolled in an online Master of Science in Criminal Justice Administration program at another school, which he completed in May 2011. He talks to OnlineDegrees.com about how he balanced his online studies with work and living abroad.
Q:

What was happening in your life when you made the decision to enroll in an online bachelor's degree program?

A:I was working as an international police officer for the United Nations Mission in Kosovo (UNMIK) International Police. This was a very challenging job, and as I rose up the chain of command and made a name for myself within the UN system, job offers started coming my way. My lack of a degree was killing me as all of the job offers had a minimum requirement of a bachelor's degree.

At the time I started attending Ottawa University, I was the director of personnel and administration (DPA) for the UNMIK Police. This position put me at number 10 on the chain of command out of 2,190 international police officers from 47 countries and was exceptionally challenging.
Q:

What was it like earning a criminal justice degree online, especially while living abroad?

A:I really didn't know what to expect from online education, but have come to see it as a very valuable and effective venue when the material is presented properly. Also, I think people who are older and have more professional and life experience benefit more.

I thought that living abroad would make online study difficult, but it was quite the opposite. I was able to work at my own pace and on my own schedule. This made accomplishing my goals much easier than I had expected.
Q:

How did you balance your work responsibilities with your study schedule?

A:I really discovered the art of multi-tasking and time management when I was director of personnel and administration. My work load was demanding, but I would run many applications on my work computer simultaneously. I could do online research or work on a paper during the breaks in my work load. At home I would work on the "heavy lifting" of reading and writing.

I will admit that my program did tax my abilities to the limit, but my work performance didn't suffer from it. The toughest part was when I was trying to beat a graduation deadline of December 31, 2008, to qualify for a UN job. My school worked very hard to help me meet this goal. I was actually granted a waiver to take four classes simultaneously in order to have my degree conferred by the deadline. I couldn't have possibly asked for more assistance or accommodation from Ottawa.
Q:

How did the online classroom work?

A:The syllabus was presented at the start of the class, along with a break down week by week of assignments and expectations. There were weekly discussions in the discussion forum on a subject selected by the professor.

I found the online classroom relatively easy to use. One of the things that I liked a lot was the fact that we were able to access previous classes after we had moved on. This was important because there were a few times when another student had said something very interesting that came to mind in another class. I was able to go back and access that statement.
Q:

What surprised you the most about earning your degrees online?

A:I was most surprised at how relevant and crucial to the learning experience the discussion forums are. I thought the professors did an excellent job making sure everyone was truly engaged in this aspect of the course, rather than just going through the motions.

In some of my master's courses, the students took turns facilitating the discussion forum, which was interesting and an appropriate step for a graduate-level course.
Q:

You earned a 4.0 GPA in two different online degree programs. What tips can you share with other students?

A:I worked very hard to establish and keep myself ahead of the curve, meaning assignments that were due on Friday were generally turned in on Monday. This gave me the flexibility to adapt to fluctuations in my workload.

After I completed my bachelor's degree, I was so pleased with the result that I immediately jumped into a graduate-level online criminal justice degree. I was working as the deputy regional commander for the UN Police in the Les Cayes region of Haiti when the earthquake hit on January 12, 2010. My habit of staying ahead of the curve allowed me to complete all of my assignments in time, in spite of being propelled into the position of regional commander immediately after the earthquake.

My advice to anyone studying online is to stay as far ahead of the curve as possible–it saved me a couple of times.

Our Partner Listings