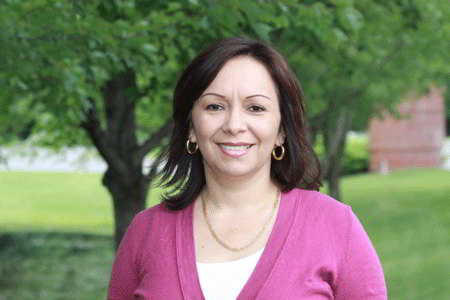 Refugee uses her degree to help others
Rosie Villa, a mother of two, fled political turmoil in her native land and built a career in the U.S. helping others. Find out an online bachelor's degree in liberal arts helped her start a new life.
Rocio "Rosie" Villa is a 44-year-old crime specialist and victim advocate who lives in Niskayuna, New York. She works for the New York State Office of Victim Services in Albany, and her career would be impressive even without knowing the amazing story behind her achievement.
Villa, who earned her bachelor of science degree online, is a powerful example — to her co-workers, clients, and her own daughters, aged 16 and 21 — of the power of education.
Rosie, tell us about your background.
I was born in Colombia, and I came to New York about 15 years ago with my husband and two daughters; we were fleeing the political turmoil and persecution in my country. Many people in my family had been killed — it was awful. We came to New York with only our luggage and $1,000. We learned that we could apply for political asylum, and I will be forever grateful to this country for, essentially, saving our lives and giving my children a future.
How was your adjustment to living in the U.S.?
When I arrived, I did not know English at all. My second language had been Russian, and, as you know, it has very little in common with English. I began picking up the language here by listening to the radio and watching TV. I also borrowed many children's books and videos from the library, both for my two young daughters and myself. I like to say Barney helped me learn English! I also requested a volunteer from the Literacy Volunteers of America. I decided to take advantage of everything that was free. I had a wonderful volunteer who came to my house for an hour every week. I always try to learn.
Tell us about your experience earning a bachelor's degree online.
I did a lot of research and decided to enroll with Excelsior College and am so thrilled that I did. I have a B.S. in liberal arts with an emphasis on protective services, and I also earned a certificate in homeland security. I learned a lot about history and what makes America such a unique and incredible country. I have worked for the New York State Office of Victim Services. I really enjoy being part of the criminal justice system. I am a crime-victim specialist. I do investigations all over New York State. I am the only bilingual — Spanish and English — specialist in the Albany office. I also volunteer as a Russian speaker for victims.
Why did you decide to pursue your degree online?
My children were at home, and I wanted to be able to be with them as much as possible while I was studying. Also my union, CSEA [the Association of State Civil Service Employees Union; Villa was already working at the Office of Victim Services when she began her studies], pays for two college classes every year. I chose Excelsior, for one, because they were very good about allowing me to transfer my credits from my previous undergraduate work. I started my education at a university in Russia and had some additional credits from another college here in the U.S., and they allowed me to apply that work towards my degree.
How would you describe your online education experience?
I took a lot of classes in the classroom and I can tell you that working online was, for me, much better! It was like having a college just for you. They will serve you and take care of you. When you are in a classroom you hear a lot of people talking and it isn't clear if they are actually adding to the discussion or just listening to themselves talk — generally, it's the latter, and I find that a waste of time.
Did you find that you had enough one-on-one attention?
Definitely! I took all of the information that I got from my professors and my advisors, who were all wonderful, and very responsive whenever I had a question, and I'd go to all of the libraries in my area for more research material if I needed to dig deeper.
What was the "community" aspect of college like for you?
There was a great deal of interaction with students, professors and advisors. It's futuristic. If you need anything, you can ask an expert. It's the best of the best. My daughter went to a SUNY school and when she sent an email to a professor she would never hear back. I would always get a response right away! Online education is the future; it's here right now and we should keep some things from traditional university life, but it is the way of technology and information. Online education gives you a lot more than any other school. You can search vast online libraries; you can interact with your teachers in a way that you can't in a big university class.
What would you tell someone considering getting an online degree?
Actually, what I would tell them is to check the website and see what sort of careers they have and credits they can transfer. Make sure they will accept your previous education.
What's next for you, Rosie?
I am going to get my master's degree from Excelsior. I want to continue to advance in criminal justice. I was working with the Office of Victim Services on Sept. 11, and it was truly rewarding to be able to help the victims of that tragedy. I really love this country, I really feel like it is my home, not Colombia. I visit there and it feels familiar, but this is my home. This country saved my life and the lives of my family.
Our Partner Listings