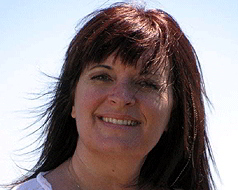 Single mom advances career by earning a business degree online
This California mother of five always wanted a college degree, but having five children and working full time made her dream seem out of reach. Then she discovered online learning and it proved the perfect solution.
Shawna Bell, 44, had worked as an office manager while raising five children as a single mom. Bell had always wanted to earn her college degree so she could advance her career. But given her busy working-mom schedule, attending classes at a local college was not an option. The answer, she found, was earning her degree online. She recently obtained both a bachelor's degree and a master's degree in business management online.
Q: What made you decide to attend school online for your bachelor's in business management?
A: I had married young and had children and was a stay-at-home mom. I intended to go back to school and continue my education when the kids were older. I divorced and realized things changed. I had been successful in obtaining relatively decent jobs in running an office, but knew I could do so much more. I knew I needed a degree to be a manager or supervisor, so I looked at the option of earning my degree online.
Online learning fit my situation by allowing me to do my schooling after work hours, during lunch time, and while on breaks, and the school I chose offered an online environment I was comfortable with. I can be a bit of techie nerd type. So I decided to earn my online business management degree.

Q: What were the challenges and benefits of earning a business management degree online?
A: One of the challenges with online learning is that for some courses if you need extra help, you don't have that in-person option of a tutor. It was hard for me to get through my college algebra class having been used to traditional methods of having a teacher in front of me explaining and showing you how to do equations. We did have an online tutorial, though, and it was helpful.
The benefits far outweighed the challenges, though. I was able to earn my education and online business management degree and still be with my five children as much as they needed me. My children even benefited from seeing their mom get an extended education and helped encourage me to continue. The benefit of learning online was I now have two degrees and the ability to get into higher positions at work that I was not able to get before. I was able to become the program supervisor to a major nutrition education program with a major university and now I am the marketing director for a tech company. I'm thinking of going for my PhD online, but I'm taking a break for a while and waiting for the economy to improve.
Q: How did your interactions with professors and other students work online?
A: Most of your interaction is done online through the web classroom environment, email and chats. The university and professors endeavored to keep consistent communication with a detailed and specific syllabus. Some of my classmates weren't even in this country, and we still were able to work together to complete a project or paper. That the students were from so many different walks of life was great. We were able to draw from their varied experiences, which was helpful and interesting. One of my classmates was a nurse and we have children about the same age. We're both single moms and we're still friends.
Q: Did the online program provide any job hunting resources?
A: My last class was on how to present yourself as a professional, upgrade your resume and promote yourself as a profession. I also relied on my previous work experience to find a job.
Q: What was your experience of getting your first job after earning your online degree?
A: Once I earned my bachelor's degree in business management online, it helped me to get the position as the program supervisor for the Food Stamp Nutrition Program with the University of California, Davis. Last year, the program lost funding, and I was laid off. But I was able to return to the tech company where I had worked as an office manager because now I had education plus experience.
Q: What advice would you give those considering an online business management degree?
A: Check all the different online schools to make sure the one you choose meets your specific goals and needs. Also, make sure that it is an accredited school.
Our Partner Listings