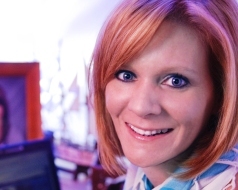 It's never too late to change: This 38-year-old single mom proves it's possible
At 38, this single mom wanted to change careers, but was intimidated to return to the classroom. The answer? Earning an online paralegal degree.
When Tanean Schaller, a medical assistant in a busy New Jersey urology practice, became disillusioned with the way patients were being treated, she decided to return to school and change careers. But as a 38-year-old single mom, she was hesitant to return to the classroom, where she was afraid she'd stick out because of her age. Her solution? Study online where no one would know she wasn't a "typical" student. In May, Schaller graduated with her associate degree in paralegal studies, fulfilling a lifelong dream.
Q:

What made you decide to attend school online?

A: I knew I wanted to earn my degree, but going back to school as a 38 year old, I was too intimidated to take classes on campus. I live only two miles from the local community college, which offers courses online, so I decided to go there.
Q:

What did you study?

A: Initially I chose business/marketing only because I could take the entire program online. But after the first semester, I realized if I did not chase my original dream of earning my paralegal degree, I would regret it. I began taking classes part-time in August 2008 after I left a long-standing career in the medical field. It took me two years and one semester to complete the online paralegal degree program.
Q:

What were the challenges and benefits of studying for an online paralegal degree?

A:The biggest challenge was committing to a schedule to meet the course deadlines and studying. In addition, I quickly learned that I was missing the in-class interaction. But, still hesitant to go on-campus, I continued the online classes until I took courses that required me to attend on-campus.
Q:

Did you miss the face- to-face interaction with other students and teachers studying online?

A: Yes–I found that when it came to my English class, I was missing a certain level of intimacy. But I addressed the issue with my professor. I then went in and observed a class. It helped me feel more comfortable. I soon learned to email other students via the discussion board when I wanted peer-assistance.
Q:

How did your online interactions with professors and other students work?


A: Exceptional! The online instructors were always available to answers questions and offer assistance. The turnaround-time for returning emails was usually within 24 hours. A few weeks into my first semester I found a schedule and routine that I easily incorporated into my life as a working single mother.
Q:

What job placement resources were available to you in the online paralegal degree program?

A:The career resource center on campus was always available and willing to assist. I utilized the office when I wanted to change my resume from chronological to functional. I had spent 12 years in the medical field. Although I was changing careers and could utilize that knowledge in my new career, I did not want my resume to highlight those skills and strengths.
Q:

How did you get your first job after earning your online paralegal degree?

A:About a year before graduation, I had become unemployed. At this time I also lost my car. As a single mother with one income, I had to decide: keep my house or keep my car. I used this opportunity and began seeking unsolicited "internship" opportunities at local law firms. I prepared my resume and cover letter to reflect my current career and educational goals. I specifically looked at firms that practiced in the areas of medical malpractice and personal injury because of my medical background.

After interviewing, I was offered a part-time internship opportunity with a local law firm in Bethlehem, PA. It was perfect because the firm was on a bus route. Mind you, this was the first-time I was taking public transportation in my life! I continued this opportunity three days a week for 20 hours a week. After three months, the firm offered me a full-time position starting in April 2010. I was able to replace my car and am working for this firm at present.
Q:

What advice would you give those considering an online degree?

A:Commit! You have to be willing to carve out time in your schedule and be well-disciplined when it comes to adhering to that schedule. Make a calendar that is viewable at all time at your work space so you can see what deadlines are in the week ahead.

Our Partner Listings