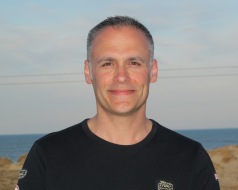 BSN & hospital supervisor: Joseph Julian
Find out how this 25-year RN and hospital supervisor balanced work and family life while attending an online RN to BSN program.
Joseph Julian already had a successful career when he decided to go back to school. Julian, who had been a registered nurse for more than 20 years and a hospital supervisor for three years, enrolled in an online nursing degree program at Penn State in January of 2007. The school, whose program generally takes four years of full-time study to complete, accepted 30 credits of bachelor's degree coursework Julian worked on years before, allowing him to earn his Bachelor of Science in Nursing degree (BSN) in three and a half years of part-time study.
At a pace of one to two classes each semester, including summers, Julian was able to balance his studies with his home and work life fairly easily. What made his school experience even better was that he was able to take full advantage of his employer's tuition reimbursement plan–a program that covered the majority of tuition up to 12 credit hours per year. Julian shares why he enrolled in an online nursing degree program–and perhaps more importantly, why he's glad he did.
Q:

How did you decide to earn a nursing degree online?

A:My employer, Faxton-St. Luke's Healthcare in Utica, NY, merged with another local hospital. We had a new chief nursing officer / VP of nursing who desired her leadership staff be a minimum of bachelor's degree-certified. This is also a requirement of those hospitals seeking to apply for "magnet" status.

Initially, I had reservations about completing a degree that I had decided not to finish earlier in my career. The first time around, I stopped my studies because I didn't feel like I was learning anything applicable to my job, and I was still young dreaming of getting married, building a home and starting a family. I'll readily admit that perhaps maturity was a factor at that time, but I was still discontented that I had not finished what I had started, especially after being halfway there. That unfinished business ate away at me over the years.

My current situation with childcare, family responsibilities, being approximately an hour away from any nursing schools and the intrigue of online education made this an easy choice for me.
Q:

With a job as a hospital supervisor, how did you balance your work and study schedule?

A:I worked 12 1/2-hour shifts and managed to get my hours in over two to three consecutive days a week. This gave me four or five days a week I could dedicate to my classwork and clinical hours. On the days I worked, I had little to no time for school due to my sleep requirements, commute time and work hours. I tried to complete the majority of my school work while my children were in school and my wife was working to lessen any interference to our family time.
Q:

With such a full schedule, how was the course load and pacing of your BSN program?

A:The course load was very reasonable and my advisor was great in helping me choose classes. The pacing was just right and made sense as the concepts built off of one another culminating with a capstone project. The work was challenging but rewarding; the knowledge I gained from each class was applicable to my job and even my personal life. This contrasted quite a bit from the experience I had with my former bachelor 's degree studies.
Q:

How did the online classroom work?

A:Each class was different in terms of interaction with other students. Some classes required weekly posts and responses while others did not utilize that format at all. A syllabus was posted on the first day of class which clearly spelled out my weekly lessons, assignments and course requirements. Grades were posted promptly with comments which gave feedback on my work. I found this easy to use, and there weren't any features I didn't like.

Often, course materials included hyperlinks to articles to read or websites to review. Some of the nursing classes included slides or videos of assessment techniques and disease processes, but most classes, whether health care or an elective, had a familiar feel about them. This kept my comfort level high as I progressed through my studies.
Q:

How would you describe your interactions with professors and classmates in the online classroom?

A:My teachers were all top-notch; many had their doctorate degrees. The professors responded promptly whenever I had a question or concern, and never did I feel left out because I wasn't physically there. The professors kept learning interesting, and when applicable, allowed us to tailor the experience to mirror our interests or goals.

I found my peers to be equally fascinating as they came from all walks of life, geographic locations and health care backgrounds. I had fun communicating and sharing stories with them. During graduation, I had the pleasure of meeting a few of them face-to-face.
Q:

What surprised you the most about earning a nursing degree online?

A:It was fun and went faster than I would have ever imagined. I should have done it a long time ago! Many people think an online class is easier than a traditional class. I can sincerely tell you I've worked harder on some of these online classes than I have in several traditional classes. It also surprised me how well thought-out the program was in terms of the curriculum, course delivery and ways to pursue your clinical experiences.
Q:

What advice would you give to someone considering an online nursing degree?

A:I feel associate-level nursing programs are basic preparation for the NCLEX-RN exams and a basic working knowledge, but a bachelor's degree is necessary in today's health care world. This degree is a stepping stone for advance practice practitioners such as nurse practitioners, nurse anesthetists or clinical nurse specialists. Take it from someone who has been a nurse for 25 years now: you'll never regret getting it. A BSN can only help your career.

Our Partner Listings