Growing A Green Career In Sustainability Consulting
A fast-food burger chain is rethinking its core product in light of the environmental impact of beef production. A university wants to incorporate green priorities into its facilities management–and the curriculum. A retail home furnishing company suspects some suppliers might not be meeting its stringent environmental standards. These seem like a variety of problems to solve, but they highlight the ways a sustainability consultant can step in and help companies drive their initiatives.
Sustainability consulting has gone mainstream and created opportunities for those who can transform business objectives into results and help companies integrate environmentally sound standards and eco-friendly practices. Sustainability consultants advise businesses large and small and help them explore the responsible use of resources.
A new era for green consulting
As businesses strive for competitive advantages through sustainable practices, green consulting is emerging as the next big thing. Industry studies indicate a groundswell of support for sustainability initiatives throughout the private sector. An overwhelming majority of chief executives–93 percent–believe that sustainability issues are critical to future business success, according to the latest UN Global Compact-Accenture CEO Study, a survey of 1,000 business leaders conducted in 2010. Building brand, trust and a good reputation rank as the top reasons for greening the business; growing revenue is also important, but secondary.
Indigo Teiwes, manager of Strategic Planning Services, Carbon & Sustainability at Advantage IQ in Portland, Ore., advises clients about the development and execution of sustainability strategies and programs.
"Sustainability issues ranging from climate change to environmental equity and beyond are the most pressing issues facing the world today," Teiwes said. "I have the opportunity to engage individuals and companies who are genuinely struggling with the organizational change necessary to… compete in a resource-constrained world."
Sustainability consultants support clients in high-impact green initiatives, such as:
Achieving operational efficiencies, including effective energy and water and waste management. German engineering company Siemens AG has pledged to increase energy efficiency and decrease global carbon dioxide emissions by 20 percent in the coming year.
Building a reputation for corporate eco-responsibility, including new product development, brand management and marketing communication campaigns. For example, Home Depot developed an Eco Options brand and labeling system to help customers shop green.
Changing the internal corporate culture, including recruitment of top talent with sustainability expertise.
Optimizing the supply chain, including audits to ensure that suppliers and vendors meet environmental standards. Supply chain management has been the focus of high-profile sustainability maverick WalMart's efforts. In 2010, the company announced a plan to cut 20 million metric tons of greenhouse gas emissions from its supply chain by the end of 2015.
Advantage IQ's clients include large restaurant chains, educational institutions, and retail clients. As an advocate for green business practices, Teiwes reaches out to internal stakeholders to build consensus on sustainability initiatives. She works with corporate teams to identify innovative sustainability solutions from packaging to product development to communications.
"We assist clients in developing a strategy that matches their organizational priorities and company culture," Teiwes said. "Whether that be demonstrating cutting-edge sustainability leadership, or focusing on low-hanging fruit and cost savings associated with careful (and informed) resource management."
Bright horizons for sustainability consultants
The penetration of green business practices in the private sector is still in an early stage, with plenty of room for growth. Business leaders envision a future in which sustainability will be embedded in the business strategies of companies worldwide, according to the UNGC report. About half of executives see this occurring within the next decade, and eight out of 10 are confident that the shift will take place within 15 years. Teiwes recognizes that her clients are at different stages on the sustainability continuum, and stays sensitive to organizational readiness for action. Executive engagement and employee buy-in not only help achieve success in the present, but also build commitment to far-reaching progress in the future.
"Seeking sustainability is a journey," she said.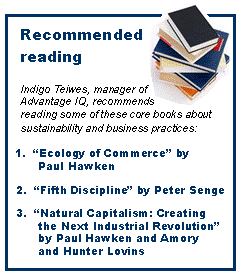 Consulting firms stand to play a central role in this evolution. The major management consulting firms including Accenture, Deloitte, Boston Consulting Group, McKinsey, Pricewaterhouse Coopers and A.T. Kearney have all established sustainability practice groups to tap into growing client demand.
In view of growing demand for green consulting and other jobs that help businesses go green, the Bureau of Labor Statistics began collecting data on "green jobs" in 2010. The BLS's 2008-2018 forecast singled out management and environmental consulting as the fastest growing industry in the U.S. with 83 percent job growth in the coming decade.
Growing a career as a green business consultant
The greening of the private sector spells opportunity for business students and established professionals alike. Breaking into green consulting requires education and expertise.
Education. Sustainability consultancies require a bachelor's degree, preferably in business, finance or an environmental studies discipline such as natural resource management, toxicology or environmental policy. Many consultants elevate their credentials with an MBA in sustainability consulting. For a review of MBA programs with a sustainability concentration, see the NetImpact guide "Business as Unusual: The Student Guide to Graduate Programs 2011."
Expertise. Targeted expertise in sustainability is key, according to Jennifer Woofter, founder and president of Strategic Sustainability Consulting. Woofter's corporate blog explains that sustainability professionals need knowledge of environment-specific business practices. For example, Woofter knows the difference between SA8000 and the UN Global Compact and the UN Declaration of Human Rights, and when each should be applied to a particular situation.
Sustainability consulting offers the chance to do good in the world while also working toward professional ambitions–all while making a good living. Management consultants earned an average salary of $87,260 in 2010, according to the BLS. With a business degree and sustainability knowledge, professional sustainability consultants can help business clients strategize for a better tomorrow.