Trucking Industry In High Gear For Holidays
It is once again that most wonderful time of the year. The temperature has cooled, and Nat King Cole will soon be crooning from store intercoms across the country. However, as the holiday shopping season gets underway, it is fitting to take a moment to recognize the unsung heroes who make the annual rite of gift-giving possible: truck drivers.
The trucking industry is far from glamorous. It can entail long hours away from home and driving under less than ideal conditions. However, for experienced truck drivers, this may be a well-paying vocation that can offer steady employment and appealing promotion possibilities.
"You can make a good living as a truck driver if you are not afraid of the weather, traffic and getting your hands dirty once in a while," said John S. Nelson, transportation manager for W.L. French Excavating Corporation.
Trucks driving the American economy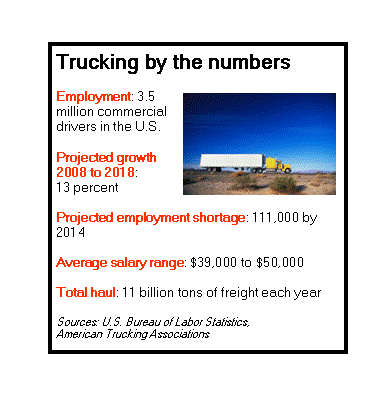 According to American Trucking Associations, an industry group, the trucking industry is a major force behind the U.S. economy. With nearly 9 million people working in the trucking industry, it is responsible for creating more than $650 billion in revenue annually and accounts for 5 percent of the nation's gross domestic product.
What's more, the ATA reports that 70 percent of all freight tonnage is delivered by trucks, mainly by 3.5 million commercial drivers. In addition, some 80 percent of communities receive their goods exclusively by truck. And that means that without truckers, there would be a lot of empty stockings on Christmas morning.
Companies looking to attract qualified workers
As the trucking industry ramps up for the holiday season, some companies report a shortage of qualified drivers.
"We have companies we work with that have trucks that are not working because they cannot find drivers," said Nelson.
Greg Peace, director of the Driver Academy for FFE Transportation Services, attributes the shortage to an aging workforce that is entering retirement. Meanwhile, fewer young people are interested in entering the field as a long-term career.
"Truck driving is a unique career that entails a lot of things a normal career does not," said Peace. "There is quite a bit of turnover."
Most notably, many truck driving positions require long periods on the road and away from family. According to Peace, most long-haul drivers will spend two to five weeks at a time out on the road. Once home, they may have one day off for each week they were driving.
"It's a tough business if you have small children," said Peace. "You're going to miss your kids."
However, experienced drivers can be well compensated in exchange for their time on the road. Peace estimates most drivers earn $1,000 to $1,200 per week in take-home pay. The ATA estimates the average driver earns $50,000 annually while some can earn in excess of $100,000 each year. Meanwhile, the Bureau of Labor Statistics reports the mean annual wage for heavy and tractor-trailer drivers was $39,450 in 2010.
Training for truck drivers
Before getting on the road, truck drivers must complete a short-term vocational training program. Peace says most programs include a three to four week formal school program followed by a four to six week apprenticeship with an experienced driver. Students who attend private schools may pay $5,000 to $7,000 for their entire training program and then have the opportunity to work for a variety of companies.
Other students may choose to attend a company-sponsored school instead. These programs, such as the Driver Academy for FFE Transportation Services, are one way companies are working to combat the shortage of qualified drivers. Graduates from these schools are expected to work for the company a certain length of time. In return, the cost of the driver's training is waived.
Truck driving is not considered a skilled occupation, but that doesn't mean anyone can get behind the wheel and be successful.
"It truly takes talent to safely operate all kinds of trucks," said Nelson. "Truck drivers nowadays have many more responsibilities than they did years back."
Is truck driving right for you?
With the BLS estimating 13 percent job growth for heavy and tractor-trailer truckers from 2008 to 2018, this occupation is definitely worth considering. However, Peace cautions that individuals shouldn't jump into the career without some forethought. He's seen too many people enter the industry only to discover it is not right for them. He recommends interested individuals should do their homework and talk to school and company representative about what the job entails.
"Think it through," said Peace. "Have family support behind you."
For those who find their place in the trucking industry, Peace says the benefits are great and include non-driving jobs that are often available once someone has done their time on the road.