Keep Love Alive As A Marriage Counselor
February brings us Valentine's Day, and with it comes chocolates and flowers and oaths of everlasting love. In the midst of all the romance, it can be difficult to imagine you will ever feel anything other than heart-stopping adoration for your dearly beloved. However, the reality is no relationship or marriage stays on Cloud Nine forever.
From little annoyances such as the division of household chores to the ongoing pressures of finances and child-rearing to major indiscretions such as affairs, challenges occur in all relationships. Ask any long-term couple, and they are sure to say a solid relationship takes hard work and dedication. Marriage counselors are highly skilled professionals who help couples work through their differences. If you relish the opportunity to change lives, a career in counseling may be the right choice for you.
How counselors help
Marriage counselors fall into the broader category of marriage and family therapists. They are mental health professionals who excel at helping their clients pinpoint underlying issues in their relationship and develop strategies to address them. While some may balk at the idea of seeing a counselor, the reality is that any long-term relationship takes work — and sometimes professional help.
According to the American Association for Marriage and Family Therapy, at any given time, some 1.8 million people are receiving treatment from marriage and family therapists. Overall, 98 percent of those clients report their therapy services as good or excellent, and three-fourths of couples receiving marriage counseling say their relationship improved as a result.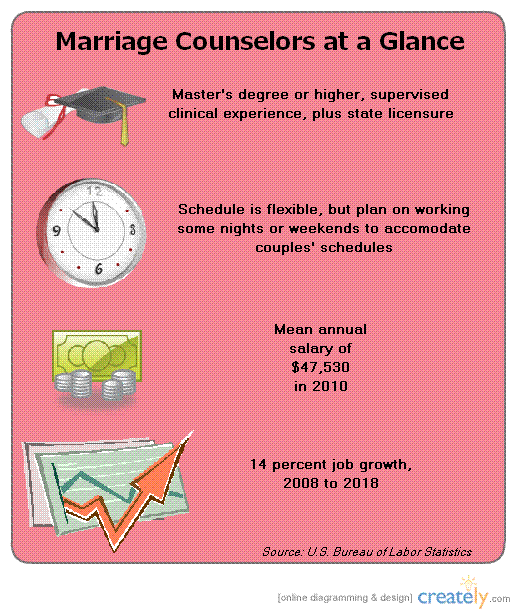 One of the reasons for the high rate of success is that marriage counselors work with clients to help them develop practical solutions rather than dictating the course of action themselves.
"It's a very collaborative process, at its best, and that's the part that I really enjoy," said Albuquerque counselor Tamara Auger.
The nitty-gritty of counseling careers
A counselor's daily schedule can vary depending on their type of practice as well as their clients' needs. Many counselors who operate private practices find they must balance executive duties with counseling sessions. For example, Zora L. Kolkey, a marriage and family therapist based in San Francisco, splits her days between business duties and counseling. Her mornings are spent on administrative tasks, while she sees clients from 12pm until 9pm two days a week.
Tina B. Tessina, Ph.D., also known as Dr. Romance, is a psychotherapist and author of "Money, Sex and Kids: Stop Fighting about the Three Things That Can Ruin Your Marriage." Like Kolkey, she too splits her time between the business side of her practice and counseling sessions. Although she is semi-retired, Tessina currently sees up to four clients a day, three days a week. At her peak, she was counseling eight clients daily and up to 23 each week.
While marriage counselors often have the freedom to set their own schedule, expect to put in some night hours, which are most convenient for many couples.
Getting the right education
Since counselors must address a variety of highly sensitive topics while maintaining the utmost level of confidentiality and professionalism, all 50 states and the District of Columbia require extensive training and licensure.
"You have to be licensed, which minimally entails a master's degree, 3,000 hours of supervised face-to-face client time and two different licensing exams," said Lindsey Plumer, a California marriage and family therapist.
Michael Zentman is a clinical psychologist and director of the Postgraduate Program in Couple Therapy at Adelphi University. He recommends students look for counseling degree programs that not only meet state requirements but also help students develop their own theory of treatment.
"A comprehensive education in family and marriage therapy should also acquaint students with group therapy and individual therapy as well as other theories that underpin these approaches such as cognitive behavioral, psychoanalytic, etc." Zentman said. "There should be an emphasis on students beginning to define a theory that they subscribe to."
In addition, Zentman says a good curriculum should include plenty of clinical experience and live consultations with supervisors.
For students hoping to run their own practice, Kolkey suggests balancing a counseling degree with business instruction.
"The graduate programs that I'm familiar with do not teach anything about being in business," said Kolkey. "I would strongly encourage anyone going into this field who intends to be in private practice get a business coach as soon as they can."
Helping yourself before helping others

Those interested in breaking into this field may think the right counseling degree and certifications are the keys to success. Not so, say many marriage and family therapists. Instead, they say the best advice for future counselors is to get help for themselves.
"Get counseling yourself," said Tessina. "If you don't deal with your personal issues, they will trip you up in counseling."
She also recommends marriage counselors focus on creating a healthy balance between their work and personal life. Learning to let go of clients' problems is an important skill for anyone considering a career in counseling.
"Build a good life and a healthy family life," Tessina said. "You'll draw on those resources for strength and wisdom about life and relationships; you'll pass this wisdom on to your clients."
With the right combination of education and empathy, marriage counselors offer a service that can transform relationships. Couples counseling can save marriages, strengthen family bonds and ensure there will be plenty of chocolate on the Valentine's Days yet to come.