What employers care about more than your college degree
Dec 19, 2011
0 Comment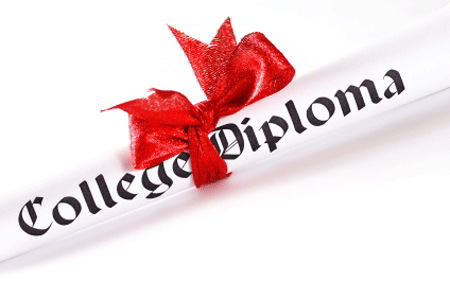 Recent college students looking to break into the job market should take note of one compelling finding from a November 2011 survey of hiring managers and decision makers: An overwhelming 90 percent believe that a candidate's job skills are more important than their degree.
A college degree still remains one of the most reliable credentials for workplace success. The same survey, which was commissioned by the Accrediting Council for Independent Colleges and Schools, found that 58 percent of hiring professionals expected applicants to have some kind of college degree. An additional 10 percent expected at least some post-secondary training.
But earning a college degree that employers care about involves more than just logging on for lectures and cramming for midterms. It's not enough to follow the minimum requirements for graduation, say recruiters and education researchers. Take charge of your college education to build the skills you need in today's knowledge economy.
5 ways to make your degree what employers want
Today's employers are scrutinizing applicants' records more closely, checking for evidence of core skills as well as applied career training, according to an article by Georgetown University higher education researcher Anthony Carnevale.
Employers are looking for transferable skills such as the ability to communicate, solve problems and collaborate with team members. With fewer jobs offering on-the-job training, it's also important to hone your applied job skills while still in school. The following tips can help ensure you get a career-ready college education.
1. Don't skimp on your college curriculum
Some colleges allow students to choose a less rigorous path through the required curriculum. Career-savvy students won't take the bait -- even if it means risking a lower grade in a tougher class. Choose classes to hone your skills, not just to satisfy major requirements.
2. Take a liberal dose of liberal arts courses
To prepare for a career, take a liberal arts class. It seems counter-intuitive, but the good old-fashioned liberal arts curriculum builds the core skills that knowledge-economy employers find lacking in today's applicants. A 2011 publication titled "Academically Adrift," which explored what college students are -- and aren't -- learning, found that students who majored in liberal arts experienced "significantly higher gains in critical thinking, complex reasoning and writing skills over time than students in other fields of study."
3. Get help
The doors to your professor's office, the college writing center, the math tutors' office, the career center and even the dean's office are open to you. Use these resources to achieve more than a passing grade in college. Understand and get inspired by your coursework by working with tutors and your instructors. And count on academic and career counselors to help you focus on the opportunities in your future.
4. Choose the right degree for your career goals
While a liberal arts bachelor's degree is right for knowledge-based jobs, a vocational certificate or associate degree may offer the best preparation for many careers in today's economy. According to the Bureau of Labor Statistics, half of the 30 fastest-growing occupations in the U.S. require less than a bachelor's degree; environmental science technicians and physical therapist assistants get their start with an associate degree, for example.
5. Stay on track with an internship
Internships allow you to test-drive a career as you apply your education in the real world. Experience firsthand what you need to know to excel in the workplace. With fewer on-the-job training opportunities, an internship also allows you to approach potential employers with experience already on your resume.
If you want to hit the job market with both a college degree and desirable job skills, use these tips to make the most of your time in college and give employers what they want.
More from The Degree 360:
Deadly College-App Essay Mistakes
How to Succeed in Community College
Job Perks Worth a Pay Cut