Wake up a career that's in hibernation
Sep 26, 2011
0 Comment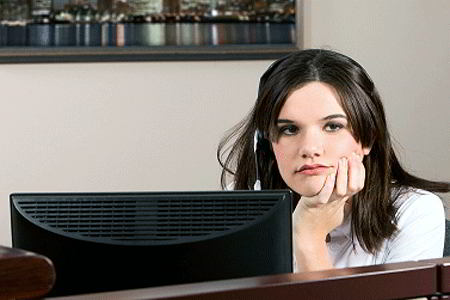 Another day at work rolls around and you can't quite open your eyes. Everything feels fuzzy, and you're daydreaming of your pillow. Your career is in hibernation mode, and if you don't wake up soon, you could be stuck sleeping your way through a dismally dull career.
File clerks, telemarketers and office workers all made the list of the U.S. Bureau of Labor Statistics' occupations with the largest job declines projected between 2008 and 2018. Whether you're in a job with plummeting numbers or you're simply looking for work that doesn't put you to sleep, check out a few stories from people who have taken their careers from drab to fab.
Jobs expert's top tip: Research your options

Tiffani Murray, the author of "Stuck on Stupid: A Guide for Today's Professional Stuck in a Rut," has wise words for job seekers looking for a change. "I would recommend that anyone who is preparing to make a career jump complete some research regarding how the job market is looking for that field," she says. "There are plenty of resources online to find out what fields actually have seen growth and more jobs being created. The worst thing one could do is spend time training and then go to look for a job in an area that is already saturated with available talent." Get smart about your career change and you'll set yourself up for success.
From police work to private investigation
Robin Martinelli of Martinelli Investigations, Inc. made the jump from a law enforcement career to her own family-owned private investigation company. "I suggest working part-time in a like field of what they are jumping into, or an internship," she says. "Also, start to learn how to market yourself and your company, so start to join a lot of networking groups. Online reputation management and all Internet media are also very key."
Police officers: $55,620 in 2010, 9 percent job growth between 2008 and 2018
Private investigators: $47,830 in 2010, 22 percent job growth between 2008 and 2018
From graphic design to marketing management
While you might be in a career with growth potential, you can still make the jump to more satisfying work. Mark McLaughlin, Director of Marketing & PR at MANCOMM, upgraded from working as a graphic designer to become a marketing manager. "Many people may have a sideline that they think could never lead to a full-time job--but hey, it's possible. Plus, if the sideline is something you really enjoy doing, you may find your new career much more exciting and fulfilling than your old one."
Graphic designers: $48,140 in 2010, 13 percent job growth between 2008 and 2018
Marketing managers: $122,720 in 2010, 12 percent job growth between 2008 and 2018
From customer service to freelance writer
Sometimes, finding a hot job means looking towards current technology and trends. Brie Weiler Reynolds felt stressed and uninspired at her job doing customer service for a computer company. "It was, as you can imagine, a stressful job where the majority of the time I helped people with problems or issues related to their software." When she made the jump to working as a writer at the social media company FlexJobs, she found herself in a hot career. "I get to spend my days interacting with FlexJobs' fans and customers on Facebook, Twitter, LinkedIn, YouTube, etc., as well as writing blog posts and other content for the site, and I absolutely love my job."
Customer service representatives: $32,780, 18 percent job growth between 2008 and 2018
Writers: $65,960 in 2010, 15 percent job growth between 2008 and 2018
Find the tools you need to make the jump
Murray notes that getting the right education is a smart way to make the jump to a hot job. "Find out what it is going to take to make the leap," she says. "Do you need to go to school, take training, get a certification or volunteer in the field to get more experience?" Becoming a freelance writer could require a few months in a technical writing workshop, while becoming a marketing manager could have you heading back to school for an MBA. Get informed before you make the jump and you'll be more likely to land on your feet.
More from TheDegree360:
Are women too sexy for science?
How to flunk out of college
Turn a two-year degree into $40k a year
Are you under enough academic pressure?