He earned, she earned: 4 occupations with a small wage gap
May 1, 2012
0 Comment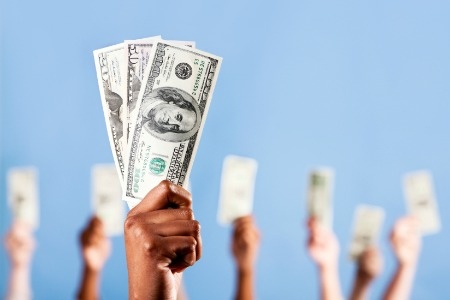 Wage equality is still an elusive ideal in the U.S. workforce. As of 2012, the average woman would have to work about three and a half months more to earn as much as the average man. Equal Pay Day, which this year fell on April 17, marks the point at which women break even with men's average annual pay from the previous year. The Institute of Women's Policy Research marked the 2012 milestone with a Gender Wage Gap update. All in all, the news is sobering. During 2011, women working full-time reported median weekly earnings of $684 compared with $832 per week for men. That's about 82 cents on the dollar.
The silver lining: The data show steady, year-over-year progress. Earning 82 percent of the male average is an improvement over the 77 percent recorded in 2009 and a big jump from the 60 percent in 1980. In 1980, an average woman would have had to work through the first week of May to catch up with the prior year -- almost half the year. These days, the jobs with the smallest wage gap come close to breaking even within a month or less.
4 occupations that come closest to pay equity
When it comes to equal pay for equal work, these four occupations show women earning nearly as much as men, on average.
1. Police officers. Only about one in ten police and sheriff's patrol officers is a woman, but at least that woman commands about the same as her male counterparts. Median weekly pay in 2011 was $938 per week for women compared with $948 for men, according to the IWPR. That's 98.9 percent,  or about half a week of extra work to catch up. Police officers earned a mean annual wage of $56,260 in 2011, according to the Bureau of Labor Statistics.
2. Registered nurses. With pay soaring as a result of historic demand for nurses, gender is scarcely an issue. This traditionally female occupation -- the third most common occupation for women -- is just under ten percent male. It's the inverse of police officers, but in this case, the one man out-earns the nine women -- barely. The wage differential was a modest $47 per week in 2011: $1034 for women compared with $1081 for men. That's 4.3 percent more, or about two weeks' overtime to break even with the male annual income. In 2011, the mean annual wage for RNs rose to $69,220, according to bls.gov.
3. Secondary school teachers. High school teaching is another case where the minority commands a larger slice of the pie than the majority. Women outnumber men by 6 to 4, but men earn 5.7 percent more -- $1049 compared to $989 per week for women. That wage premium would keep women in the classroom an extra three weeks in order to make up the difference. As of 2011, bls.gov reports high school teachers earned a mean annual income of $56,760.
4. Sales representatives. It's survival of the fittest in sales, where the dollar amount of the sales determines commission pay. A performance-based pay structure can create a level playing field in which women have equal opportunity to earn bonuses. Still, female sales reps fall short of their male counterparts by a small but significant 9 percent, earning $927 a week to a man's $1019. That adds a little over a month to the work year for women to catch up. Sales representatives earned $63,520 in 2011, according to bls.gov, but that average hides vast variation in performance pay. Earnings can range from less than $27,250 to more than $110,680, according to bls.gov.
There are many reasons women's earnings fall short relative to men's, ranging from career timeouts for child-rearing to hidden -- or not so hidden -- sexism. Still, it's encouraging to see women getting even in some professions. As more and more career paths approach these four nearly-equal occupations, look for Equal Pay Day to one day land on December 31st.
More from The Degree360:
Are you making one of these financial aid mistakes?
Construction managers make a career comeback
Who are the most influential music professors on Twitter?