Toward a Grad Nation: How the U.S. measures up
Jun 13, 2012
0 Comment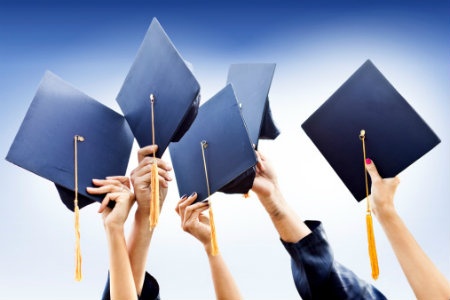 A new report had some good news about high school graduation rates. Between 2001 and 2009, the national graduation rate increased by 3.5 percent to 75.5 percent. And the number of high schools labeled "dropout factories," where fewer than 60 percent of students graduate, had decreased from 2,007 in 2002 to 1,550 in 2010.
The report, however, wasn't all good news: One in four U.S. public school students will not graduate high school with their class; for minorities, that figure approaches 40 percent.
Meanwhile, only one in three 25- to 29-year-olds have graduated college. In an age where education equals opportunity, a high school diploma is no longer optional -- and a college degree is quickly becoming just as important.
Toward a Grad Nation
Since 2010, President Obama and education leaders have taken steps to build a skilled workforce by promoting high school and college completion. Their vision, articulated in the 2010 Civic Marshall Plan, is a Grad Nation where 90 percent of students leave high school with a diploma in hand and a clear pathway to a career.
The Grad Nation Initiative's 2012 update, "Building a Grad Nation: Progress and Challenge in Ending the High School Dropout Epidemic," finds some success and plenty of challenges ahead in the quest to prepare students for today's competitive skilled job market.
The power of a diploma or college degree
Education -- at both the high school and college level -- is the key to bridging the disconnect between the nation's workforce and the job market. Even with millions of Americans out of work, more than half of business leaders claim they cannot recruit enough employees in the U.S. with the right skills and education for the job. Over the coming decade, U.S. employers are projected to need 22 million more college graduates to fill their ranks.
In 1973, nearly 3 in 4 jobs -- 73 percent -- required only a high school diploma. Today, most jobs require not only high school completion but also some college. According to a June 2010 study by the Georgetown Center for Education and the Workforce, 90 percent of jobs are expected to require a minimum of a high school diploma by 2018. About two-thirds -- 62 percent -- will require some college, ranging from a vocational certificate to a graduate degree.
In addition to job opportunity and security, graduates can claim significantly higher earnings. The estimated premium in lifetime earnings for graduates varies by research, but 2010 data from the U.S. Bureau of Labor Statistics shows that workers with a high school diploma earned, on average, $182 more per week than high school dropouts. Earning a bachelor's degree brought median weekly earnings to $1,038 -- more than double the $444 of a high school dropout.
From classroom to career
Schools are taking steps to shepherd students through the K-12 system and onward toward college and a career, reports "Building a Grad Nation." Some of the resources helping students to connect the dots to their future include:
Access to college-level advanced placement (AP) classes in high school, which qualify for college credit at many institutions
Dual enrollment in high school and community college
Early-college alternative high schools
Support for students applying for college financial aid, especially those filling out the federal FAFSA
Technical and applied education at the secondary level
Training for high school guidance counselors in the full range of postsecondary education options
Schools, public agencies and private education foundations such as the Bill and Melinda Gates Foundation are joining forces to build a graduation nation. Students can look forward to improved access to college and career advising, classroom learning support, financial aid education, and innovative education program options to help them find their way from the classroom to career.
More from The Degree360:
5 mistakes that can sink your image at work
Meeting, convention and event planners get the party started
Pep up your productivity