Occupy Colleges shows student activism lives on
Oct 12, 2011
0 Comment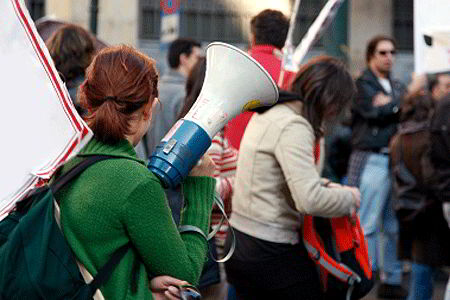 Hell no, we won't go. . . into debt?
Nearly 50 years after Berkeley students burned their draft cards to protest the Vietnam war, students across the nation, concerned about rising tuition and the lack of jobs for new graduates, are once again taking on the establishment. Occupy Colleges, a grassroots student protest movement that spurred a walkout at 100 or so college campuses on Oct. 5, announced a follow-up day of protest on Oct. 13.
The Occupy movement started in mid-September in New York, where a diverse group of protesters set up camp in the Wall Street financial district. The movement has gained traction with the slogan, "We are the 99 percent,"--a phrase which aims to draw attention to the unequal concentration of wealth and political power in the United States--and has spread to Boston and Albuquerque, N.M. (where police arrested some protesters this week), Los Angeles and other cities.
The decentralized nature of the Occupy Colleges protests, which, like the parent Occupy Wall Street, claim to lack formalized leaders, makes it hard to estimate how many students are protesting. But the movement is drawing comparisons to the 1960s--an era in which college protests were a force for sweeping change in both the U.S. and Europe.
In 1964, students at the University of California, Berkeley, took over the administrative building Sproul Hall for two days in December--during which more than 800 students were arrested--to advocate for free speech on campus. Students during that era also famously mobilized in support of civil rights and against the war in Vietnam.
Forty-seven years later, students have been camping out in front of Berkeley's Bank of America since October 8, when a small group of students meeting to plan a larger protest for the following week decided to start the protest early.
Students rally against economic injustice
While the famous student activists of the 1960s fought against social injustice, today's student activists are motivated by perceived economic injustice.
According to the Occupy Colleges Facebook page: "Occupy Colleges is a grassroots movement working in solidarity with Occupy Wall Street. Around the country, more and more high school students are foregoing a college education because their families can no longer afford it. So many more are graduating with inconceivable amounts of debt and stepping into the worst job market in decades."
These protests come on the heels of a number of student protests over tuition hikes in the U.S. And affordable education is a growing concern around the world--in November 2010, thousands of British students made international news when they took to the streets to speak out against massive tuition hikes, occasionally sparring with police.
Since 2008, student loan debt in the U.S. has gone up about 25 percent, compared to an overall decrease in every other category of consumer debt during that same period. At the same time, many states have cut education funds and raised tuition to help meet budget shortfalls.
Are today's students activists?
The momentum of the Occupy Colleges movement may be surprising to some. Public opinion polls about today's college students show many consider them to be less politically engaged than their predecessors.
A 2010 annual survey of college freshmen by the University of California, Los Angeles, found that only 6 percent reported "a very good chance" that they would participate in student protests while in school. More than 73 percent reported financial well being as a top priority, while barely 20 percent rated "influencing the political structure" as a goal.
A 2008 survey by left-leaning magazine Mother Jones found that more than 80 percent of respondents characterized today's students as less engaged than those in the 1960s. When asked about key issues facing students, only about 1 percent of those surveyed identified student loans as an important issue, while global warming and human rights took the top spots.
Students still a force for change
But while the 1960s are remembered as the heyday of student activism, students today may not be getting enough credit for their political activism. The famous liberal thinker and MIT professor Noam Chomsky, in a 2009 interview with the University of Arizona at Tucson's Daily Wildcat, said that while today's student activists might not attract as much attention as their predecessors, student activism is alive and kicking.
"The total level of student involvement in various things is probably as huge as it's ever been, except for maybe the very peak in the 1960s," Chomsky said. "It's not what I would like it to be, but it's far more than it's been."
And student protesters suggest this new movement is not likely to end anytime soon.
"It's safe to say that this is the beginning--I don't know how big it is going to be--of a new wave of coordinated protests," New York history professor and activist blogger Angus Johnston told Inside Higher Ed. "This feels like a kickoff event rather than a culmination."
More from The Degree 360:
How to network the tailgate party
Groupon and other weird ways to pay for college
Do students need more parental pressure?